2020-01-23 21:20:30
by Lisa Kirschner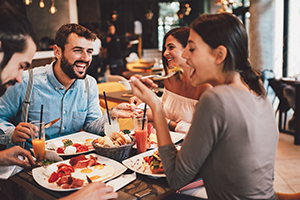 Years ago, restaurant marketing required a good location, strong signage, a Yellow Pages listing, direct mail and word of mouth.
These days, customers are heavily influenced by what they learn about a restaurant online.
Did you know that 90% of restaurant guests research a restaurant online before dining, according to Upserve? Or that digital ordering and delivery has grown 300% faster than dine-in eating since 2014?
It's true….and you, as a digital marketer, need to capitalize on these trends. In 2020, digital marketing is absolutely critical to your restaurant's success if you want to keep up with the competition.
Check out our list of seven key tactics that you absolutely must integrate into your restaurant's 2020 digital marketing plan:
Search Engine Optimization: Most of your guests today will find you through a search engine. Optimizing your online content and your web site for search engines will improve your rankings and attract more traffic to your door. Ignoring SEO means that your web site may not be highly visible when people are searching.
Social Media: According to Social Media Monthly and Empathica, nearly 3 out of 4 customers—a whopping 75%!—have relied on Facebook to make dining decisions, based upon comments or images shared by others. If you're not leveraging social media platforms (specifically Instagram, Twitter and Facebook) for your restaurant, you're falling behind and losing out on new customers. On a related note, don't forget to take a hard look at your plating techniques to see if your menu items are worthy of social shares or if their unappetizing appearance could be inadvertently harming you online.
Directory Listings: If you've been in business for a while, you're on Google and most likely some other popular online directories such as Yelp. It's absolutely critical that you claim and update your listings on a regular basis to ensure that your info is correct and your profile is complete. Your listings should include photos, your hours, your menu and other key information. We often automate this process for our clients, so they don't have to constantly check and monitor their information in more than 80 locations.
Online Reviews: Bright Local reports that 82% of consumers read online reviews, with restaurants being the #1 industry where online reviews matter. It's critical that you know what reviews you're receiving online and that you're addressing negative reviews, since silence about a specific incident or complaint will likely cause your prospective patrons (and the person leaving the bad review) to dine elsewhere.
Online Ordering and Delivery: As mentioned above, online ordering is one of the fastest-growing segments of the food and restaurant industry. If you don't have the staff or capabilities to offer online delivery yourself, try using a service such as Uber Eats or Grub Hub.
Email Marketing: According to FSR magazine, email marketing is one of the best ways to retain previous customers and can significantly increase revenue—sometimes by as much as 25% to 125%! Send out regular mails announcing specials, promo codes, events and new menu items to keep your regulars engaged and coming back for more.
Rewards Program: Your regulars show their loyalty and should be rewarded. Create a simple rewards program that gives them a discount or freebie when they frequent your establishment.
You must include these tactics in your marketing mix in 2020 and beyond, but you don't have to do it alone. Contact us or schedule a 15-minute consultation with one of our team members to find out how we can help you implement these and get better results from your digital marketing.
{{cta('ae4326b4-a91c-4fd3-bfd3-7a123ba985d3')}}