2014-12-03 15:00:00
by Julie Lyons
Join the American Marketing Association in Charlotte, North Carolina in January for their Essentials of Social Media Marketing event.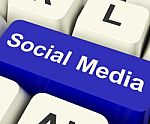 Social media is not a fad but a thriving consumer-driven trend that will forever change the way your organization communicates with its customers and the public at large. Business use of social media consists of more than a tweet or status update on the latest social network.
While you may know the basics of most of the popular tools – e.g. Facebook, Twitter, blogs, LinkedIn, video, podcasts, and even Pinterest and Google+ – you realize that there is more to social media than just creating buzz.
AMA's Essentials of Social Media Marketing provides marketers who have a basic knowledge of social media with strategies, tactics and tools that firmly support business goals. Through case studies of organizations that succeeded and those that have stumbled, discussions with your peers and interactive exercises, you will develop a framework that can take your strategy to the next level.
After attending the workshop, you will be able to:
Create an integrated social media strategy that takes into consideration multiple channels including both digital and traditional
Develop a metrics and accountability plan that ties to business objectives
Understand the expectations and wants of the new social customer
Create and curate relevant content and manage a content library
Avoid pitfalls and handle a social media "firestorm"
Create social media guidelines and ensure ethics are in place
Ensure that social media supports the brand's promise
Align your employees' digital footprint with your organization's values
Use social media more effectively across your organization
Craft a comprehensive social media engagement strategy that best fits your organization's goals and objectives.
The workshop is designed for marketers and those responsible for the strategic development, execution and management of social media. The event will be held January 26th to 27th at the Charlotte Marriott City Center. For full details and to register visit the events web page.
If you're not using social media for your business, you're missing out on traffic, leads and customers.
Our free ebook can help, whether you're brand new to using social media for your business or just need additional suggestions. Download our ebook "How to Enhance your Internet Presence with Social Media" by clicking below.
{{cta('89a38f88-782f-4b8a-9ca4-aac1f88b3532′)}}