2012-07-13 19:32:00
by Super Admin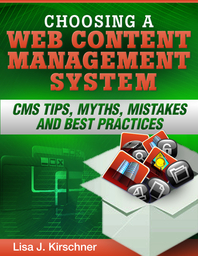 Are you considering using a web content management system or in the process of selecting one? Then my new ebook, "Choosing a Web Content Management System: CMS Tips, Myths, Mistakes and Best Practices" is for you!
This ebook will teach you what a CMS is and why you need one. You'll also learn about the top 10 myths and the top 10 mistakes that people make when choosing or using a web CMS. Whether you work in a large enterprise, a mid-sized business or a startup, you'll learn what you need to know about web content management systems.
Learn more or order my web CMS ebook now and get your CMS project on the right track.
I hope you enjoy it!
Lisa Kirschner
Managing Director, JUMP START Blog and Online Community
Managing Director, Flair Interactive Services Inc.