2020-03-25 21:22:05
by Lisa Kirschner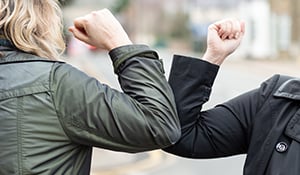 Want to stay up-to-date about marketing through the COVID-19 pandemic? Check out our COVID-19 blog series now.
We know that as marketers and business owners, you are experiencing a lot of fear, anxiety, uncertainty and confusion right now—about your family, your loved ones, your job and your business.
We want you to know that you and your loved ones are on our minds too, because you're more than just our clients or partners…we've come to think of you as friends too.
Our Commitment to You
During the past 25 years in business, the Flair team and our clients have continued working together through a lot of challenges—from 9/11 to the recession of 2009 to other personal hardships that everyone faces from time to time.
We've been blessed to have you and other clients check in on us during trying times, such as illness or the loss of a loved one, many times over the years. But you've also made it a point to celebrate with us during good times, such as when we've gotten married, had kids or overcome a personal obstacle.
We also love to do the same for all of you…we know about your grandson's recent soccer goal, your wife's promotion or the long-awaited vacation you took a few months ago. Nothing makes us happier than to see our clients succeed and reach their personal and professional goals. And we're committed to helping you get there.
While this global crisis continues, we want to reassure you that we're doing a lot of things in the background so your digital marketing efforts don't skip a beat during and after this pandemic.
Our COVID-19 Response Plan
Our plan includes the following components, which will ensure continuous execution of your digital marketing tasks and projects now and in the future:
Virtual Team:
As usual, the Flair team is equipped to work remotely from home. Since we frequently work in multiple locations, we already have systems in place to ensure seamless productivity and timely task completion regardless of location. Whether we're working in our office or at home, we've always had one golden rule: we must get results for our clients. That remains our primary goal, now and always.
Ramped Up Resources:
In anticipation of unforeseen client needs, we've proactively brought on additional people in multiple locations to handle any overflow work that may surface. If one of your team members needs to step away from work for a while due to COVID-19, know that you can rely on us to step in and help. You are our number one priority, and we'll be ready and able to help with minimal interruption to your business.
Server/Hosting Info:
Our hosting partners WPEngine and Siteground have fully automated and secure systems in place, with redundant servers and geographically dispersed teams of engineers who work 24/7. We are also continuing to proactively monitor and update your hosting environments to minimize downtime and security issues.
Strategic Planning and Preparedness:
Not sure how to market effectively during this time, particularly if some of your traditional marketing tactics (such as trade shows and live events) are no longer bringing you traffic and leads during the foreseeable future? We'll help you chart a course through this difficult, challenging time by taking advantage of the unique advantages of digital marketing. We can work with you to determine which tactics to utilize with the marketing dollars that you have already budgeted for 2020.
Blog Series about COVID-19:
We've received a lot of questions about how COVID-19 is affecting digital marketers. Starting next week, we'll be publishing a series of blog posts about this topic. We'll touch on how specific industries are responding, what data is showing regarding the impact of COVID-19 on marketing, and what you can do to position yourself in the strongest way during and after this outbreak.
Upcoming Interactive Events:
Coincidentally, we've been busy preparing some new and exciting online learning opportunities for you during the past year or so. We'll be announcing more in the weeks to come, but be on the lookout for new online classes, boot camps and challenge groups that will help you and your team stay up-to-date about the latest digital marketing best practices and—more importantly—how to put that into practice with action. As those of you who have persevered through 9/11, 2009 or other challenging times know, it's now more important than ever to remain focused and not take your eyes off of your longer-term goals. We'll help you get there.
In short, we are here for you. We will get through this together. Thank you for your trust and confidence.
We'd like to extend a heartfelt wish of safety and wellness to each of you, your families and your loved ones. We hope you are able to remain positive, healthy and focused in the coming weeks and months.
All of Us on the Flair Team