2018-04-11 15:17:43
by Mona Mangat
Want some love from your customer? Then earn it, by doing what every successful Inbound Marketer has already done: Focusing on their customer. Meaningful connection and reciprocal relationships are undoubtedly the modern key to the customer's heart, and the key to your business' success. Be prepared though, since building those links take a lot of energy, hard work and commitment, like every relationship does in real life.
And like everything else worth doing and having, it doesn't come easily.
Which harkens to a quote that rings true today: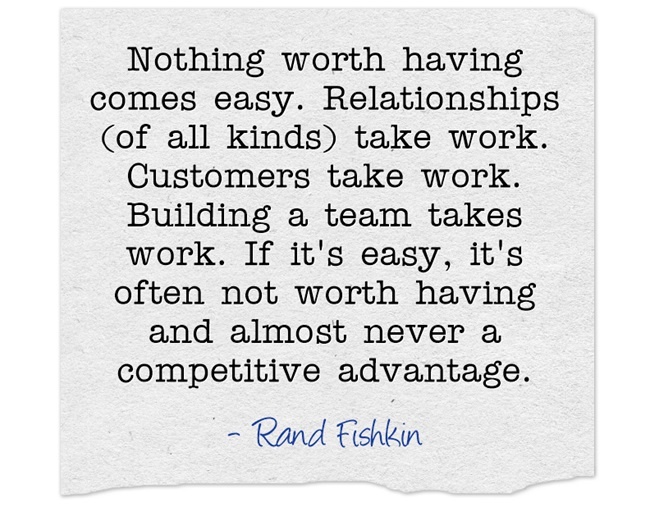 So, if you want to be the best and most loved brand in your field, you'll have to put in the work. But the payoff is big, because if you can manage to win over customers' hearts and minds, you'll most likely have them hooked for a lifetime.
And that leads us to the next quote which should become a mantra of your Inbound marketing strategy:
It's not about anonymous customers, but real people you have connected with. You need to be obsessed with your customer putting them first. In the long run, they will appreciate you for doing just that, and it'll make nurturing those relationships a lot easier when the customer is at the forefront of your plan.
Learn everything you need to know them and interact with often and automatically. Use tools to keep in touch and send your best customers regular offers. Different customers will have different needs, so use varied platforms to reach them in their preferred way. That means you'll be able to nurture relationships via a medium that is geared toward the customer and their unique characteristics.
That leads to the next important part of building relationships: offering them help and something they need in an interesting and informative way. Entertain and inform them with quality content that makes them want to come to you, and to come for more. If you're sought out by a customer, then you can consider yourself connected.
Helping just a few of your customers at a time, week by week, blog by blog, makes your brand human and approachable. Make them fall in love with you even more by offering content like product or service tips, success stories, or basically anything they might find interesting, quirky or useful and you'll entertain and maintain them simultaneously.
And finally, the biggest and most important equation is:
So, socialize with your customers. Obviously, social media is the key to addressing concerns and questions in real time, and leaving traces for others to see and follow up on. Find the best platform for your service or product and use it regularly. Share your valuable content and always remember to show your gratitude. Nothing is more attractive than humility. You can deal with both positive and negative feedback in a down-to-Earthkind of way that allows the customer to see all sides of your product or image. That makes you come across as 'real' and allows you to monitor how your market sees and perceives you.
Once you grow and build a community for your customers, they will return to you again and again, because they'll know where to find you, and they'll know what to expect: reciprocity. When you can promote conversations between your customers in an environment you can nurture, you'll create a sense of community and belonging that people love. And once people love and trust you, you'll be on their lips and word of mouth advertising – the most effective form of marketing – will happen naturally and organically. And with a team of cheerleaders promoting you, bragging about you and aligning themselves with your brand, success will never be out of reach.
After all, no one can succeed by going at it alone.
Now that you're enlightened, you can start to confidently incorporate digital marketing professionals and tactics into your projects. Download our "Ultimate Guide to Hiring an Inbound Agency" ebook for the latest info about hiring marketing partners or contact us today to find out how to get better results from your marketing plan.
{{cta('25726bdc-67c0-4da6-a6e6-f08ee9387856')}}