2016-10-26 01:08:31
by Lisa Kirschner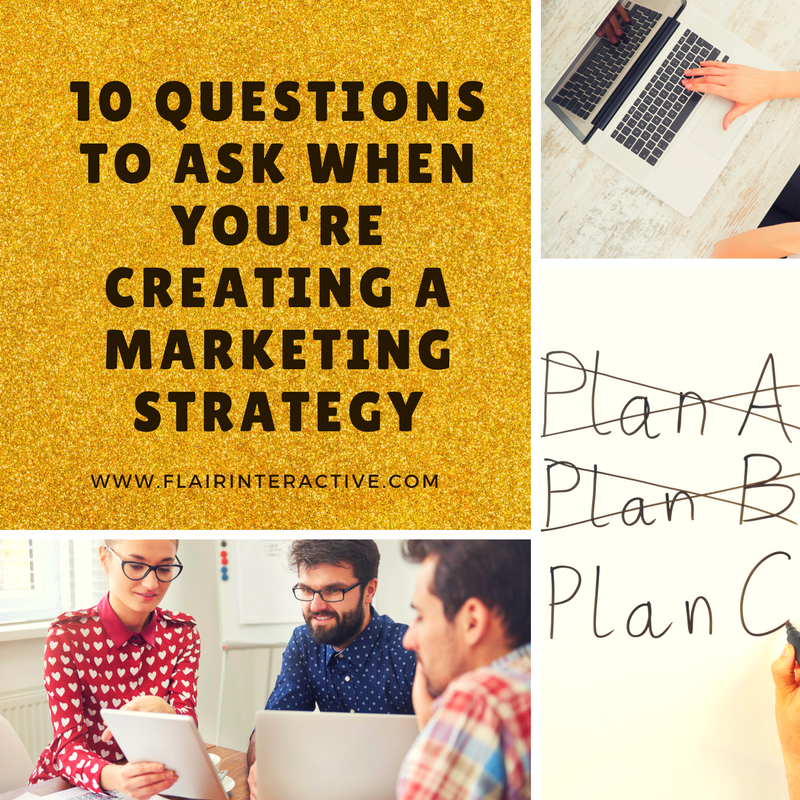 It's that time of year again! The end of the year is quickly approaching, and you need to start thinking about your 2017 marketing strategy (yikes!).
If this is the first time you're creating a marketing strategy, you might not be sure where to start.
We've put together a list of ten questions that every marketer or business owner should ask themselves in order to create an effective strategy. Be sure to print this list out or bookmark this page so you can refer back to it as you define your strategy.
Here are the ten questions you need to ask and answer before you can say that your strategy is complete:
What are my primary marketing goals? BE SPECIFIC. It's not enough to say "Get more traffic." You need to clarify how much traffic and by when. Quantify your goals and make sure you only pick 2-3 primary goals at the most. Remember you can always add additional goals later—after you achieve your primary goals.

No matter what you do, don't use general or broad goals, such as "I want to increase traffic." It's much better to say "I want to grow my traffic to 10,000 pageviews per month by May 15, 2017" or "I want to increase my marketing-qualified leads to 300 per month by the end of February 2017." Specificity counts and will give you something to shoot for. Aim for realistic yet challenging goals that will push you and your team to excel. If your goals are too easy, you're just wasting energy, time and money.




Who am I talking to? Your marketing will be much more effective if you clearly define your target audience, what makes them tick and how you can help them. Remember to keep your focus narrow (i.e. female college students who major in business and live in the state of California) rather than broad (college students). It's best to create marketing personas that clearly communicate who your audience is to everyone on your team, not just to people who are responsible for content creation. Sales, marketing, customer service and the people who make your widgets should all clearly understand exactly who your customer is.
Where do they live online? What web sites does your target audience visit? What publications do they read? Are there specific social media platforms that they prefer? Do they use organic search? What about industry associations or forums? Find out where your audience lives and go there. Frequently. Pitch a tent in their digital back yards, and feed them smores.
What keeps them up at night? What are their pain points and problems that you can solve for them? Everything that you create must revolve around this clearly-defined audience's needs and how you can help them meet those needs. You want to be the solution that helps them find peace of mind and improves their lives in specific ways. Identify their issues and make sure they understand exactly how you can solve them.
What do we do better than our competitors? It's not enough to keep up with your competition. You need to do it better, faster, easier or to a higher degree of quality than they do. Identify clear differentiators that set you apart from the competition, and make sure your marketing strategy and brand identity are built upon those strong differentiators. What is your unique value proposition? In other words, how are you uniquely and supremely qualified to provide more value than anyone else?
Who do we have available internally to support our marketing strategy? Regardless of the size of your company, marketing will require at LEAST one dedicated employee to do it right and to get good results. For most companies, it will require an entire team of marketers who are solely focused on marketing as their primary function. Be realistic in your planning and identify the roles needed for your in-house team, even if you don't have dedicated people available to do them right now. Write out job descriptions and have the person responsible for that function sign a position agreement, committing to getting that job done.

What external resources will we need? For most companies, their marketing needs quickly outgrow their available internal resources. If you don't have employees available to manage your workload, rely on freelancers or agencies to fill those roles in the short-term or even the long-term if that's a better fit. There are a wide variety of resources available to marketers who are willing to put in a little bit of extra work during the early stages of a partnership and on an ongoing basis.
How much is our marketing budget? If you're answer is "Zero" or "We don't have a budget," you're setting yourself and your company up for failure. If you don't konw what a realistic marketing budget is, then you need to turn to an outside expert to help you better understand what's possible and realistic in order to get good results. Remember that your budget needs to include the salaries of your in-house team members and the cost for external help. Also, don't forget to include other marketing costs, such as technology, hosting fees, trade shows, paid advertising and vendors. All of these should be considered when creating your marketing strategy, since your budget will likely determine what you will and will not be able to do. Understand that if you choose to do very expensive marketing tactics, such as trade shows or some paid ads, you will likely not have the budget to do others.
Where are the communication breakdowns occuring during our sales and marketing lifecyle right now? Does Marketing know the kinds of leads that Sales wants to see? And does Sales have a good understanding of which specific marketing campaigns are driving the best opportunities? Sales and Marketing should have a crystal-clear understanding of what they mutually expect from each other, and they should make each other's lives easier, not harder! Clearly identify the issues that these two groups are experiencing when working together (i.e. not enough leads, the wrong kinds of leads, lack of communication about what happens to leads, not enough lead nurturing, etc.), and then figure out how to solve them with tightly-integrated, closed-loop marketing and sales processes.
What are our baseline analytics? Before you define your goals and strategy for the coming months, make sure you know where you're starting. How much traffic are you getting now? How many leads and conversions do you get each month? How engaged are your users, based upon how long they're staying on your pages, clicking on email links or sharing social media posts? You absolutely will not be able to measure the success of your marketing strategy if you're not defining baseline metrics and monitoring them on a regular basis to determine if your strategy is working or to make corrections along the way. The end of the year is much too late to be finding out that this year's marketing campaigns weren't effective.
Whew! That's quite the list, but it will give you a very strong headstart as you begin fleshing out a better marketing strategy. What other questions do you ask yourself and your team when defining or redefining your marketing strategy? Let us know in the comments below!
Until next time,
Lisa Kirschner
Founder and Managing Director, Flair Interactive Services Inc.
Lead Facilitator, T.L.C. Marketing Transformation Coaching Program

P.S. Need help defining your marketing strategy? Order our pay-as-you-go package so we can help you define a solid strategy that will get real, measurable results.
{{cta('7e8f5377-a9a7-434d-822a-728264a5fa25')}}