2019-12-31 17:54:37
by Lisa Kirschner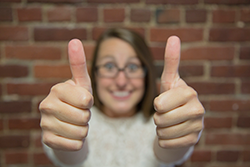 So you haven't created a 2020 digital marketing strategy yet? Never fear…we've got your back!
Here are five things you should keep in mind as you're developing your strategic plan for 2020:
Keep it simple. Don't have time to create a full strategic plan that includes all digital marketing tactics you need to implement this year? Start small and create a high-level summary.
Set goals. You absolutely must have clear, measurable and specific goals in mind as you head into the new year. Think about what your primary goals are for 2020…do you need more traffic, better leads or higher conversions (i.e. more customers)? Document those goals, including progress you plan to make by month or quarter.


Just do it. If you've experienced issues in the past with executing your plan in a timely manner, follow Nike's advice and JUST DO IT. You need to make your marketing activities a priority on a consistent basis.
Measure results. If you're not tracking the results of your marketing efforts, you won't gain good insight into what's working and what's not working. How do you know if what you're doing is successful if you aren't tracking those against your overall marketing goals?
Diversify. You're not going to see good results from your digital marketing strategy if you only focus on one tactic, such as just blogging or just running online webinars. You need to mix things up and leverage all of the different marketing tactics and channels available to you.
Don't have time to create your own plan or need results faster than you can get on your own? Watch this video of a Strategic Game Plan that we just created for one of our clients to find out how we can help:
Schedule a 15-minute call to learn more about our Strategic Game Plan package.
{{cta('ae4326b4-a91c-4fd3-bfd3-7a123ba985d3')}}