2014-07-22 14:00:00
by Julie Lyons
Most of us use social media in one way or another, but many still have not realized just how social media can help a business. A good social media presence can help your business in a number of ways.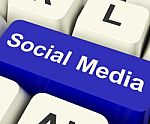 Social media includes more than just Facebook. It includes sites like Twitter, LinkedIn, Pinterest, StumbleUpon, Tumblr and the list goes on. You should choose the social networking site(s) that best reflect the demographics of your audience. For example, just because everyone is heading over to Instagram doesn't mean you have to. If Instagram is where your demographics are, then by all means do so, but if LinkedIn is where your demographics are, forego Instagram and opt for LinkedIn.
Social media allows you to quickly and easily share company news whether that's a new product, a sale, something in the industry that people should know about, new hours of operation, giveaways or any other information you would like to quickly get out to the public.
Maintaining a regular presence with social media helps you with your branding and it helps to enable a higher ranking in the search results. The higher your business information is in the search engines the easier it is for potential customers to find you.
You can easily target your audience through social media and then you can quickly deliver your message without having to spend a great deal of money. In addition, you can spread your message much faster than you can with traditional radio, print or TV advertising campaigns.
Those businesses that recognize just how much social media can help their business stand to gain the most because they'll be the ones that put the effort into using social media. Don't be left out in the cold – don't let your competition gain the upper hand through the use of social media.
Click below to learn more about the Social Media services Flair Interactive can help you with!
{{cta('3e7a9b11-afa4-4550-92df-fc7c4e58ff52')}}