2019-12-13 14:00:00
by Colton Harrington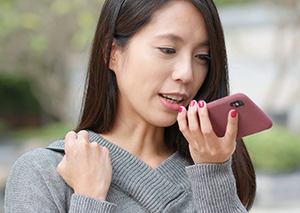 I'm willing to bet you have some kind of automated best friend to help make your life easier. In fact, 20% of adults in the U.S. have access to a smart speaker.
According to Google, 72% of people who own voice-activated speakers say their devices are used as part of their daily routines. The percentage is even higher for people who use their mobile phones for search.
What this tells us is that people want answers to their questions in a way that's faster and more convenient to them—and the switch to voice search is in full swing.
You no longer have to bounce around search engine results pages to find what you need. Automated assistants literally do the work of combing through results and finding the best answer for you. While this is nice on a consumer level, giving a computer the power to choose which links to click and which to avoid can create complications in terms your SEO strategy.
Search Has Changed
Things are different now. Search has become more complex. Users are asking questions in different ways, and the search engines have continued to adapt to these changes. In today's mobile world, it's not hard to believe that approximately 20% of all mobile searches are now voice searches. And according to comScore, 50% of all searches will be voice searches by 2020. What does that mean for you? Your strategy needs to reflect these changes or you're going to get left behind.
You see, voice search and traditional text search are used very differently. With text, you refine the results yourself—beginning with a broad question and then narrowing down the results based on what you find and variations of the search terms. With voice, the refinement is automatic.You ask a question, and your automated assistant provides a single result.
The Evolution of Optimization
Search engine optimization used to be relatively straightforward. If you wanted to rank for the search term "Best Cheesesteak in Philadelphia," you could simply pack every piece of your content with the phrases "best cheesesteak" and "Philadelphia." Again, things are different now. In order to deal with this method of "keyword stuffing," Google penalized businesses who optimized their content simply by repeatedly adding keyword phrases into the text.
This doesn't mean that keyword usage isn't important. However, the focus switched to search intent, meaning the ultimate goal of the person using the search engine. This is now the guiding principle of content creation. Rather than repetitively fitting keyword phrases into your copy, simply write content that aims to best answer the searcher's question.
With features like voice search, search inquiries aren't always as straightforward as "best cheesesteak in Philadelphia." Instead, it's more like, "Okay, Google. Where can I get a cheesesteak nearby?" As search has adapted and become more complex, the search algorithm has followed.
Today, you have to use keywords differently. If you want to be known for serving the best cheesesteak in Philly, you can't simply add those words in your content and be recognized as such. You need to be clever with your keyword strategy. Consider your ideal customer, create a strategy around fulfilling their needs, and let them establish you as the best.
Tips for Optimizing for Voice Search
This is just yet another progression in the evolution of SEO. When optimizing for a world of voice search, it's not about the phrases they type into a search bar. You have to optimize around how they would speak it as well. Here's what you want to keep in mind.
1. Establish Authority
On average, the domain rating of a voice search result is 76.8. Google's voice search algorithm prefers trusted, authoritative domains. You should link to other reputable sources and create "complete content" to which other people will want to link.
2. Keep Language Simple
The average Google voice search result is written at a 9th-grade level. Keep it conversational and directly answer questions in the text.
3. Ask Readers to Like and Share
Content with more social engagement performs better in voice search. In fact, the average voice search result has 1,199 Facebook shares and 44 tweets. Make sure you include social share buttons at the bottom of your content.
4. Keep Pushing for Rank
You should be fighting for a high ranking and featured snippets. Roughly 75% of voice search results rank in the top three results for that inquiry, and 40% of voice search answers come from featured snippets. In other words, the higher a page ranks for a specific keyword, the more likely Google will choose that page as the voice search result.
Any good SEO strategy, and all new content you create in 2020, should incorporate search and reflect the way that users are searching for content.
Want to make SEO and voice search a priority in 2020? Learn more about our monthly SEO package or get your free online SEO audit.
{{cta('215fde97-a231-4339-a956-5197b0c8d6ac')}}