2014-08-05 14:00:00
by Julie Lyons
Traditionally, small business has been slow to adapt to online tools such as social media and even slower to implement social media marketing tools. That's in large because they just don't have a great understanding of how these tools will help their business. Let's look at the reasons how small business can incorporate social media marketing into their daily lives.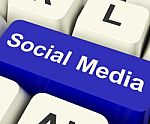 #1 Your Marketing Calendar
Start by creating a calendar that outlines what you are going to do and when. In other words, it's time to create your marketing plan so you know what you are going to do over the next month. This should be done every month. It's important that you also use the calendar you create. It takes time to create, but it's worth the time and effort.
#2 What Works for Your Business
No two online businesses are exactly alike. This means you are going to need to do some research and try different methods to bring traffic to your social media platforms. It also means you are going to need to know and understand your customer so that you make choices that will interest them. Social media statistics are very helpful in seeing if you are on target.
#3 Create a Poll or Survey
Polls and surveys are two of the most under used tools. Don't miss the opportunity to use them to find out more about what your customers want in real time and also to engage in conversation. These tools are free. Real time and no cost – you simply can't beat that.
There are just three great reasons why social media should be part of your small business marketing. There are definitely many, many more. Once you start using social media correctly, you'll enjoy the the many benefits!
Don't forget! Flair Interactive specializes in managing Social Media for all types and sizes of businesses! Click the button below and download our FREE Social Media Ebook.
{{cta('aedcf08c-0ff3-4569-ad08-11a17af10864')}}