2015-04-09 12:30:00
by Lisa Kirschner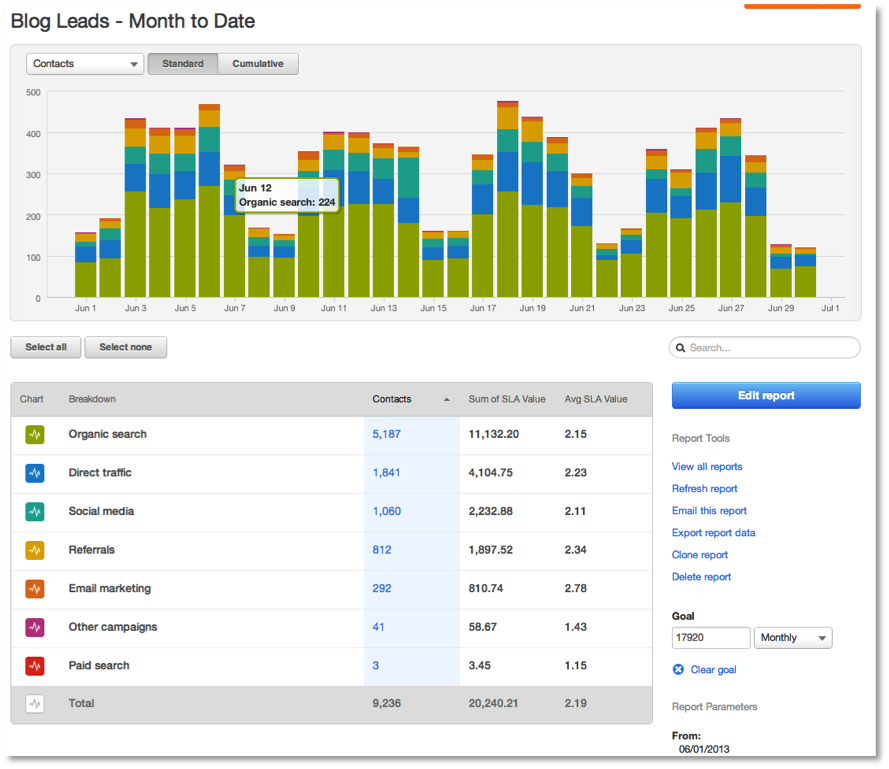 I talk to a lot of marketers each week, and most of them have at least one thing in common: they're frustrated because they have to use a TON of tools to complete their day-to-day marketing responsibilities.
There are a zillion third-party tools on the market for email marketing, social media, landing pages, forms, analytics, reporting, customer relationship management, ecommerce and many others. And if you're like most other modern marketers, you have a hard time keeping up with the updates, user interfaces, training and login information for all of those disparate tools.
Often, smaller businesses try to save money by cobbling together low-cost tools and painfully trying hit-or-miss ways to integrate them together, even if they're not designed to work with one another. Sometimes it works and sometimes results are less than desirable.
However, once your business grows past a certain point, you reach the "breaking point" where it's actually MORE expensive to keep all of those disparate tools and you realize that you're actually wasting more time and money than you're saving….not to mention the fact that your password list is getting really unwieldy and you never have the password for that pesky analytics tool when you need it!
This is where integrated marketing tools like Hubspot can be a real lifesaver. Full disclosure–we are a certified Hubspot partner agency and I don't want anyone to think that I'm mentioning Hubspot purely for my own benefit or my agency's benefit. To the contrary, I recommend Hubspot all the time to my client's for THEIR benefit—especially clients who are pulling their hair out trying to log into 3, 4, 5 or 10 different web sites and apps every day just to do their basic job responsibilities.
Hubspot offers all of the following integrated tools in one easy-to-use platform:
A content management system for your web site (this is actually known as a content optimization system in Hubspot lingo, because it has such powerful personalization capabilities)
A powerful blog
Social media publishing, monitoring and reporting tools
An easy-to-use form builder (no more waiting around for your developer to change a field name)
A robust landing page tool that allows you to build robust and effective landing pages
A keywords tool that lets you research, identify and monitor keywords
A digital asset manager (File Manager) that lets you upload, tag and organize your photos and attachments
An email marketing tool that outperforms other tools on the market
A campaign planning and management tool that allows you to plan efficient, integrated campaigns using all of Hubspot's tools and ensure that they're based on a solid strategy
A contact management tool (Contacts) that allows you to monitor your subscribers and "slice and dice" them in ways that are not possible with other list tools, including segmented lists, lifecycyle stages and custom fields
A reporting tool that blows other analytics and reporting tools out of the water–includes the ability to see where you're traffic is coming from (including their company name!), which marketing tactics are providing the best results, exactly what each user has been doing (pages viewed, downloads opened, forms completed, dates visited, source of their visits, etc.)
And so much more!
You can keep Hubspot open in the background every day so it's there when you need it, and it also includes browser plugins that you can use to quickly post to your social media accounts. Most of our clients say that using Hubspot gives them HOURS of time back into their schedule every day or every week. What would you do with 5 or 10 extra hours right now?
Want to learn more about Hubspot and optimizing your marketing efforts? Contact us today for a free consultation or demo. Cheers and Happy Hubspotting!
Lisa Kirschner
Founder and Managing Director
Flair Interactive Services Inc.
{{cta('969b85a3-62d2-44da-abb2-4d55dee5c1b3')}}