2018-07-25 21:35:00
by Joanna Ellis-Escobar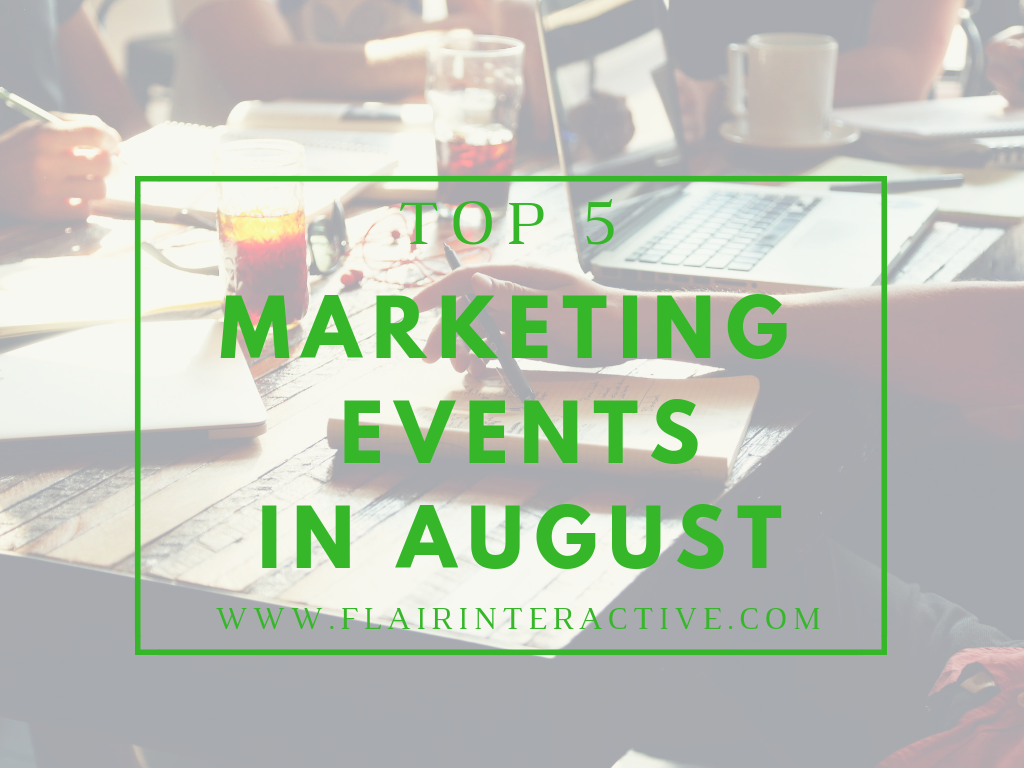 Are you attending any great events coming up in the next few months? Here's a look at our top five marketing events in August. Think of it like our wish list of events…if we didn't have to work, we'd hit them all!
What? DigitaLatest
When? August 6-9, 2018
Where? Industry City, NY
Targeting CMOs and senior marketers, brand leaders, agencies and media partners, DigitaLatest was designed to keep marketing executives and leaders in the know with the most up-to-date technology and tools in the industry.
What? Digiday's Content Marketing Summit
When? August 6-8, 2018
Where? Vail, CO
Digiday's content marketing summit has it all…stellar speakers, engaging activities and networking opportunities galore. Throw in the morning yoga sessions and you will NOT want to miss this event. See how content marketing has changed and what your brand needs to do to keep up.
What? Facebook Bootcamp & PRNews Social Media Summit
When? August 9-10, 2018
Where? San Francisco, CA
The PRNews Social Media Summit is the social event of the year. Learn from the pros how to maximize your social presence to cement your brand image and grow your audience. Thursday's Facebook boot camp is not-to-be-missed, and the summit on Friday will leave you invigorated and ready to take on social media with a vengeance.
What? Conex: The Content Experience
When? August 20-22, 2018
Where? Toronto, Ontario – Canada
In their own-very-toot-worthy words, some of the best and brightest marketing rock stars come together to present Conex: The content experience. There is just too. much. good. stuff to even try and list it all here. Basically, if you do content, you need Conex. Oh, and did I mention Convince & Convert founder and Guru Jay Baer will be there? #ContentSwoon
What? Unbounce CTA18
When? August 27-29, 2018
Where? Vanouver, BC – Canada
The Unbounce Call to Action Conference's sole purpose is to provide tangible marketing solutions you can walk away with and start implementing the second you get back to your office. Two days chock-full of speakers, food, social networking, notes and swag – not to mention access to recordings of the conference.
Looking for the perfect conference to attend to change the course of your digital direction? Any one of these will provide useful, tactical, insightful, powerful tools, techniques and tips so that you can wrap up with a better understanding of the power of digital marketing.
If you're looking for one-on-one help and guidance with your digital marketing efforts, you should check us out. Flair Interactive is a boutique powerhouse of content managers, developers and key account specialists who share an unabashed love of all-things-digital. Reach out to us today to learn more about how we can help you.
{{cta('8158e977-1c54-4a9a-9560-8e69d0d997af')}}